| | |
| --- | --- |
| | Note from your Webmaster |
---
Greetings Hallicrafters Collectors!
Notes on the Web Site
| | |
| --- | --- |
| | This page contains miscellaneous information and explanations about the HHI web site. |
Email Archives
The Hallicrafters Email Reflector on QTH.NET moved to the "Pipermail" system in January, 2002. The old archives for Hallicrafters are in one format, and the new ones are in another. To facilitate finding an email in the archives, there are now three links on the left side menu.

If looking for Hallicrafters email archives before 13 Jan 2002, check the old archives.

For anything newer, check the new archives.

Want to search all archives at the same time? There is also a link to a search engine specially designed to search BOTH the old and new archives. This search engine can search any list on QTH.NET, such as Collins, Swan, Heath, etc.


Photo Archives

The equipment photo archives have been completely re-catalogued. There is a new search engine for finding what you want, and a new system for easily adding your photos to the archive.
Site Content
This is a dynamic web site! There are several features that are updated monthly, weekly, and even daily. These include AUTOMATED For Sale/Swap Postings, Static Pops & Propagation Plops , LW-MW-SW Loggings, SW Broadcaster Schedules, English Broadcasts to North America, The Frogzilla Files, the email and photo archives, and the net reports. And now, there is another new area on the web site called Blast from the Past. This is a regular feature highlighting some year or theme from the history of Hallicrafters radio. Contributions for this area are greatly appreciated! Email any ideas or contributions to me.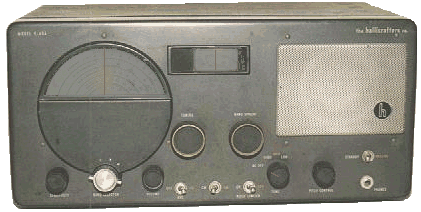 Thanks for all your contributions to date. Your continuing support ensures this site will only increase in value as a full-spectrum resource for Hallicrafters collectors. If you'd like to help in any way, contact me. If you can't, just keep those tubes glowing and enjoy the site, the reflectors, and the nets!


HOT LINKS: Home | Search QTH.NET Lists | Blast from the Past | Photo Archive | For Sale/Swap
Click here to contact webmaster. Click here if there is no left-side menu frame. This page last updated 7 Jun 2003.