---
I recently acquired an SR-2000, P-2000 and HA-20. Fortunately, all three units were in reasonably good condition, outside of being a bit dirty from long-term storage.

The first thing I wanted to do prior to powering up was to completely recap the power supply. 30-year-old electrolytics can be notorious for leakage and possible shorts. This was evident in mine, as one of the eight original 90mF/500V had been changed out with an 80mF/450V.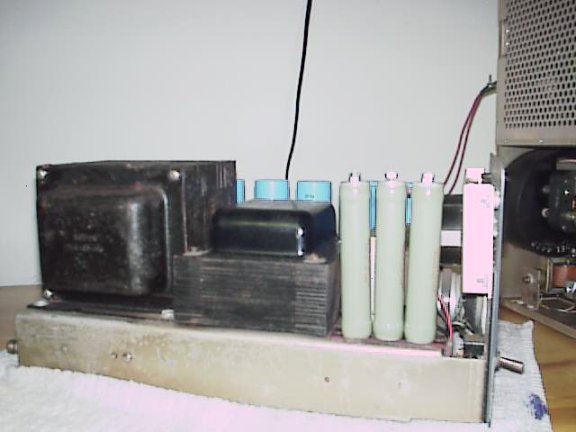 These caps can be nearly impossible to find. However, we're fortunate in that Antique Electronic Supply in Tempe AZ (602-820-5411) has some very good replacements available. They are 50-50/500V, two-section caps, same size as the originals, but clamp-mount rather than twist-lock. I decided to go for them and see if I could make them fit the bakelite capacitor subchassis. As the photos will show, they fit very well indeed. They are $8.25 each and the clamps, $1.50 each. Yes, this adds up, but what's your P-2000 power transformer worth? Considerably more than that…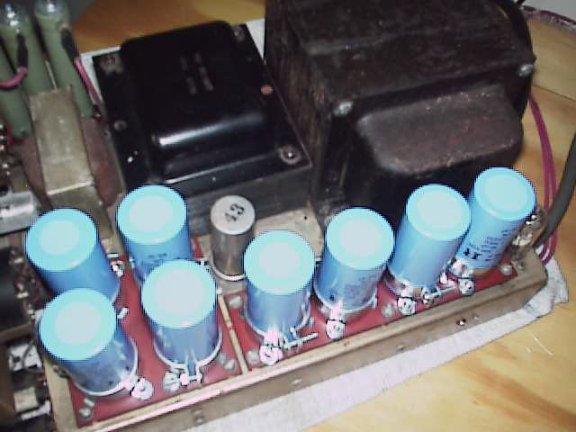 Once the bakelite subchassis were removed and the old caps unsoldered and discarded, the only work I had to do prior to mounting was to cut out the original holes from the twist-locks to permit the new caps' terminals to fit, then to drill new mounting holes for the clamps. I used standard 6-32 x ½ inch hardware as shown. I followed the schematic carefully to ensure that the cap chain was correctly installed. Paralleling the 50mF sections gave me 100mF/500V for each cap. I installed new 100K/2W equalizing resistors on each cap.
Other than remounting the bakelite subchassis, I also changed out all the smaller electrolytics in the bias, LV and screen supplies. Again, AES provided caps with slightly higher capacitances and plenty of voltage reserve, better than original. The bias and LV sections now have 25mF/450V axials; the screen supply, a 10mF/500V axial. All these were smaller than the originals and fit without any difficulty.
| | |
| --- | --- |
| | I also changed out the three 25K ohm, 50W HV bleeders. Again, I had to search, but I found excellent replacements at Surplus Sales of Nebraska (800-244-4567). They have 27K @ 55W ceramic wirewounds which I chose, $6 each. They are shown in one of the photos. The original bleeders in my power supply had been broken, very likely from mishandling the chassis outside its cabinet. It is very easy to tip the chassis on its side and have it fall over on the bleeders, shattering or cracking them. Two of my three had been epoxied back together, and those two were also open – can't imagine why! |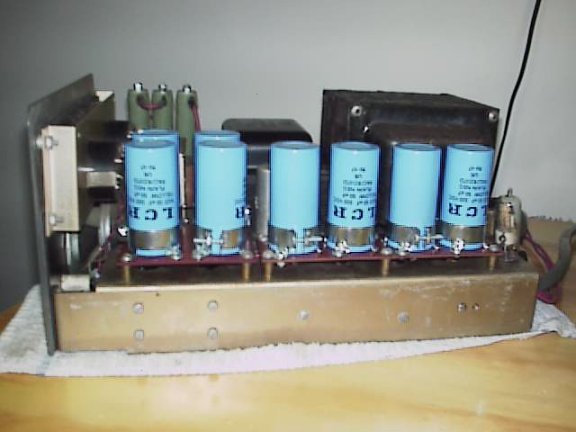 The power supply comes up and provides a stiff 1700V on the low power toggle setting. However, on account of a nasty buzz when the HV is on, I have not yet tried the higher-voltage setting. The buzz sounds like it is coming from one of the open-frame filter chokes and I believe might be loose laminations; it is that typical sort of noise. Should I need to get these chokes rewound, Peter Dahl Co. might be the shop of choice, unless another HCI Member has any suggestions for an alternative transformer rewinding shop. Also, I note that the schematic for the P-2000 gives neither inductance nor current ratings for any of the chokes. Does anyone know what these values might be?
The only thing preventing my powering up the transceiver now is a new set of 8122 tubes; I was fortunate to locate some used ones through the Boatanchors Reflector on the Internet, and expect them any day in the mail. In addition, Radio Electric Supply in Florida (Don Gies, K4GIT) gets good 8122 pulls in his stock occasionally and usually sells them for $75. Don has a nice web site which can be easily searched by "Radio Electric Supply". Not cheap, but a far better alternative to $175 average list price for the ones now manufactured by Burle, the successors to RCA's Tube Division. I recently noticed someone in the Yellow Sheets selling pairs of new Burle 8122s for $295. Four of Don's pulls are very likely just as good as the brand new ones for our purposes. They're worth waiting for, for the savings.
This page last updated 31 May 2001.