---
KA5ELD's Restoration Experiences

March 21, 2002
I praised my good luck when I acquired a Hallicrafters SR-500 Tornado transceiver in 2000. I installed a few new capacitors, and found that it was working great, but the entire experience was somewhat ruined by a thick and gunky looking oversprayed paint job on the rig and its power supply. I also had a HT-37 with a scratched-up outer cabinet. By chance I found a local shop that does powder coating. This process involves bead blasting old finish off metal, then electrostatically depositing colored epoxy dust which is then baked. No solvents are used, and a hard finish is the end result. The company I used here in Lubbock was Orbit (806 744 8300 - I have no connection with the firm). Price for the 2 HT-37 shells, the two SR-500 boxes, and (what the heck, I threw my HA-1 keyer box into the mix) was $60. A stock gray was used which closely matches the original color (they used ANSI 61 which I suppose is a standard color naming system). The result is shown in the jpeg of my main Hallilcrafters bench. I think powder coating is found all around the country, and Mike Shelton offers the service too.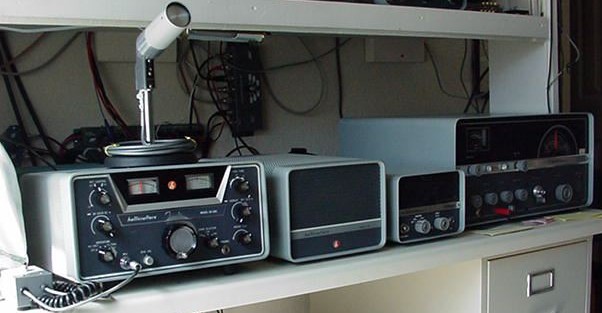 Hallicrafters Bench at KA5ELD, Refinished With Powder-Coating
I have a number of good Swan rigs but with rough cases, so I have sent those out to Orbit as well. They will do them in wrinkle black.

My second Hallicrafters project involved an SX-62B in good electrical condition, but again with finish problems on the outer case. Orbit powder coated the base frame with gloss black and the top with silver gray with a clear coat to protect the silver finish. Result is shown in the jpeg of my SX-62B table. The radio is coupled to an R-42 Reproducer that really sounds great with this grand old SWL receiver.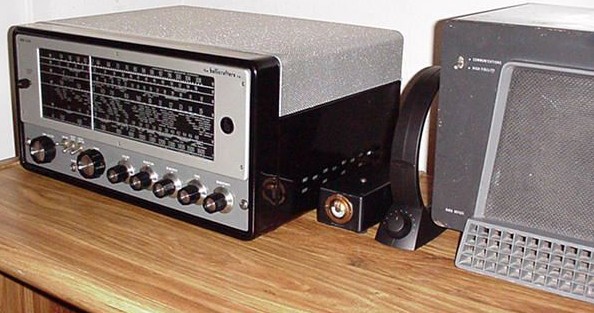 Restored Powder-Coated Finish on the SX-62
| | |
| --- | --- |
| I also include a photo of my "Radio Travois." I had been frustrated in cleaning up rigs because I lacked an adequate support while cleaning. I finally came up with this "Rig Travois," inspired by the transportation device of the Native Americans on the Great Plains. It consists of three pieces of 2x2 lumber and 4 2 inch wall screws. I used my son's old tree house ladder as a support, but a tree or fence post would work (with a small rope to lash the top legs to the support). I lay the rig with back panel down, then slowly with sprayers work the chassis dirt away. | |
| | |
| --- | --- |
| | You can make a "Ketnerized" chassis brush by cutting the head off an old tooth brush then drilling a hole in the top through which the whittled end of the handle is glued. It comes out as a T-shaped brush that is really good for scrubbing between IF cans or the like. A child's brush, because it is smaller, is even better in this role. After a spray rinse, the chassis dries in the sun. I include a shot of my Hallicrafters S-20 just after it got a bath. Notice there is a sideward slant as well and a downward slant. Notice I wrapped the speaker before getting out the liquids. And one must be careful while cleaning to keep the juices mostly on the chassis top metal. The S-20 will need new screening on its cabinet, and a rewound transformer. Once I get the screening matter solved, It will go out for powder coating too. |
This page last updated 21 Mar 2002.